Mediroyal Oedema Gloves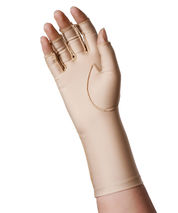 Open Finger gloves exposes finger tips for function and to monitor swelling.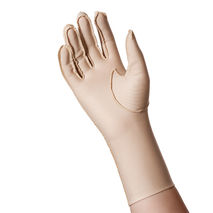 Closed Finger gloves provide a gently compression for patients with oedema.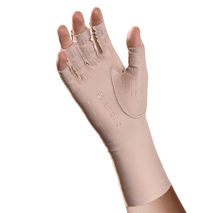 Oedema Gloves with Silicone pattern improves patient grip.
A specialised RTW Compression Glove
The Mediroyal Oedema Glove from Jobskin®, available individually, as oedema can affect just one hand, in both open and closed fingers. Also available as individual open fingered gloves with a silicone grip.
Compression, delivered via the wearing of specialised gloves, offers many therapeutic benefits and Jobskin® are proud suppliers of a comprehensive collection of these garments. There are three styles of Mediroyal Oedema Gloves available from Jobskin®:

Closed Finger: this is our standard option and used where full coverage is paramount, delivering gentle therapeutic compression.
Open Finger: where monitoring of swelling is important, our open finger oedema gloves allow for unhindered examination. This style also improves the patient's dexterity and freedom to undertake activities such as mobile phone usage and reading.
Silicone Grip: the addition of silicone substantially improves grip and manual dexterity, creating friction to aid with everyday tasks. Silicone is placed over each finger, thumb, thenar muscle and palm. These gloves are supplied as open fingered only.