Jobskin® Oedema Gloves
A specialised RTW Compression Glove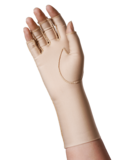 New and improved Jobskin® Oedema Glove made from Lycra with elastic seams for easy application and functionality. The lower part of the glove is seamless to reduce the risk of oedema getting trapped.
The glove provides a gentle compression for patients with oedema.
The gloves are available in Open or Closed Fingers, and Open Fingers with Silicone Grip.
Available in a range of sizes for left and right hand.
Indications - Oedema after CVA, post-op or after trauma.

Open Finger gloves exposes finger tips for function and to monitor swelling.
Closed Finger gloves provide a gently compression for patients with oedema.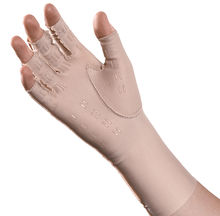 Oedema Gloves with Silicone pattern improves patient grip.