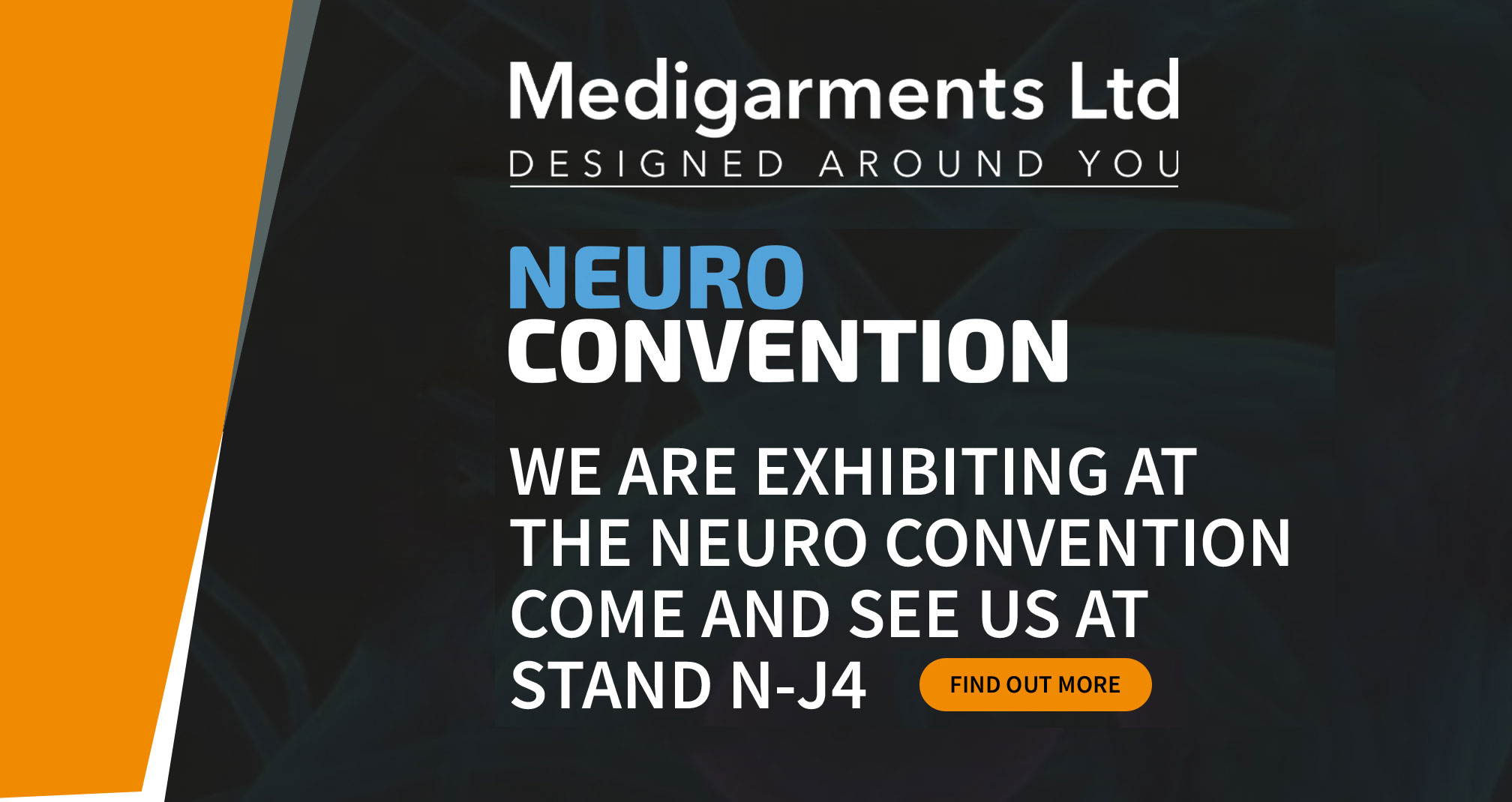 Delegates from Medigarments Ltd are excitedly preparing to attend Neuro Convention 2023. Neuro Convention, aimed at healthcare professionals working in the twin fields of neuroscience and neurology, is this only event of its type in Europe and exists with the overarching aim of improving outcomes for patients.
The unique event is set to focus on four key areas within the neurology sector: diagnostics, rehabilitation, mental health and spine/brain injury. More than 50 industry-leading exhibitors, among which Medigarments is extremely proud to number, will showcase and demonstrate products, technologies and innovations that all aim to improve patient outcomes. In addition, 50 CPD-accredited seminars will take place led by keynote speakers, along with a range of interactive workshops.
Neuro Convention is timed to coincide with Neurodiversity Celebration Week, which, founded in 2018 by Siena Castellon, this year will run from the 21st to the 27th of March 2023. A global initiative, Neurodiversity Celebration Week is designed to challenge the many misconceptions and stereotypes regarding neurological differences. With the ultimate goal of creating 'a more inclusive society that celebrate differences and empowers every individual', Neurodiversity Celebration Week seeks to transform the ways in which neurodivergent people are perceived as well as how they are supported.
Joining our team of delegates at Neuro Convention 2023 will be Michael Pursey, an ambassador for Medigarments. In 2019, when he was just 24 years of age, Michael experienced a stroke due to a massive brain haemorrhage, which left him unable to walk, speak, eat or otherwise take care of himself. The former teaching assistant, showing incredible strength and perseverance, decided to fight against his debilitating condition, setting himself a goal to climb Pen-Y-Fan, the tallest peak in South Wales at a towering 886 metres.
Wearing a made-to-measure SDO® suit from Medigarments and with support from healthcare professionals, the Marauders Men's Health Group and The Stroke Association, Michael achieved his goal. He became an inspiration to younger stroke survivors, raising awareness that the condition is something that can affect any person of any age. Michael recently attended the UK Stroke Forum as an ambassador for Medigarments and we are proud to have him with us once again at the upcoming Neuro Convention.
Garments from our signature SDO® Original collection can provide unmatched therapeutic value to people with a wide range of neurological conditions. By providing constant, consistent compression, the garments provide musculoskeletal alignment and resistance, helping to improve motor control and movement fluency.
We will be exhibiting a range of SDO® Original and SDO® Lite garments at Neuro Convention 2023, which takes place at the NEC in Birmingham on the 22nd and 23rd of March. The event is free to attend (register for tickets on the Neuro Convention website) and the Medigarments team can be found at stand N-J4. Find out more about the SDO® collection on our website and follow us on Facebook, Twitter, Instagram and LinkedIn for updates from the event.