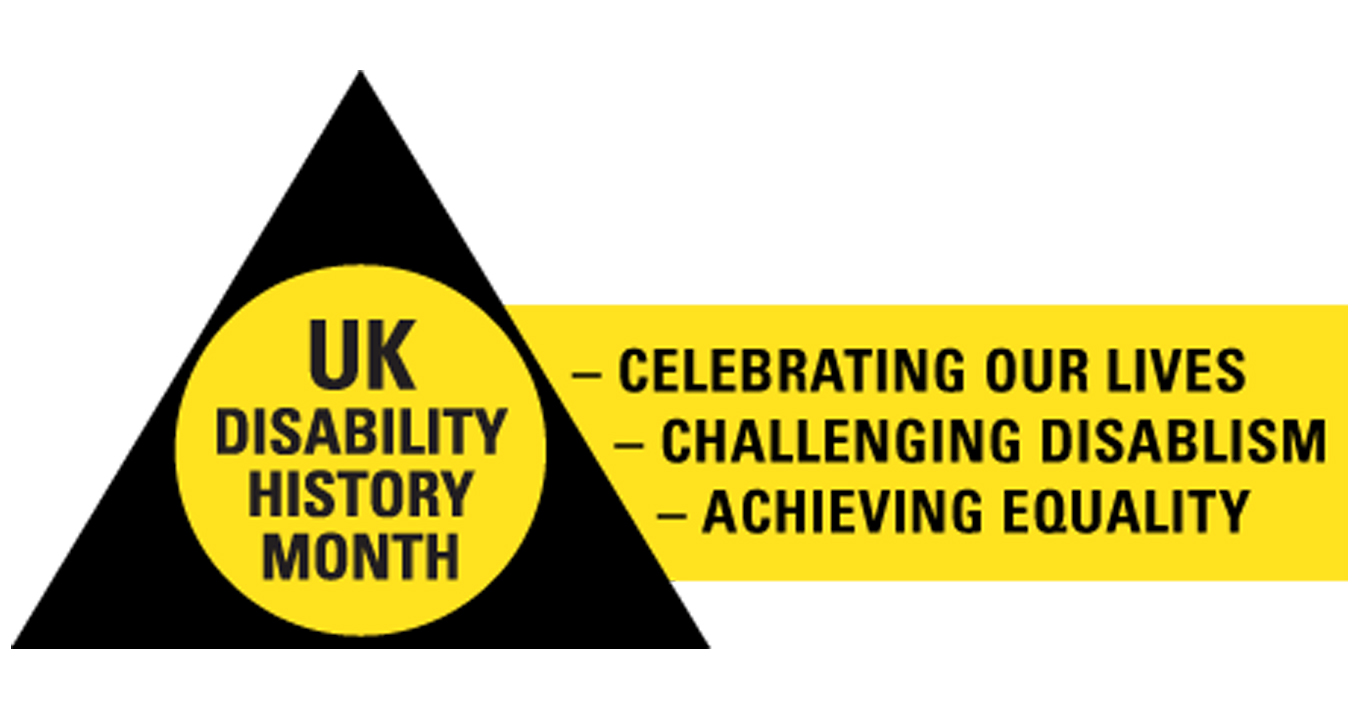 Now in its 12th Year, UK Disability History Month (UKDHM) began on the 18th of November and will continue until the 18th of December. This annual event is designed to be a platform that celebrates the lives of people with disabilities. Encouraging people to focus on the history of the struggle for equality that has been faced by disabled people in the past and that continues to this day.
UKDHM seeks to look back at the history of how disabled people have been mistreated, focusing on 'systematic oppression caused by negative attitudes, ignorance and barriers'. The organisers of the event believe that re-examining and reinterpreting this mistreatment helps people to 'recognise what must actively change for disabled people to achieve equality.
Each year, UKDHM is based on particular themes. Themes in past years have included 'Disability and Language', 'The Portrayal of Disability,' 'The Social Consequences of Disablement', 'Hate Crime' and 'Campaigning for Equality'. For UKDHM 2021, two themes have been chosen: 'Disability and Hidden Impairments' and 'Disability, Sex and Relationships'.
Disability and Hidden Impairments
Over 50% of the 13.5 million people in the UK who identify as disabled have hidden impairments. Due to negativity, many people with hidden disabilities choose not to be identify as disabled, even though this results in them experiencing difficulties. Common hidden impairments include:
Neurological or cognitive impairments like dyspraxia, dyslexia, muscular dystrophy, brain injury, epilepsy and multiple sclerosis
Mental health impairments like depression, anxiety, schizophrenia, PTSD and bipolar disorder
Metabolic impairments like cancer, chronic fatigue, arthritis, heart conditions, diabetes and HIV
Sensory impairments like deafness, blindness and other conditions that affect communication and speech
Disability, Sex and Relationships
Historically, disabled people have often been desexualised, seen as 'perpetual children' who were incapable of healthy adult relationships. Today, all children with disabilities are entitled to standard Sex and Relationship education and this is happily resulting in more confident generations of young disabled people.
We hope you'll be able to take part in the UKDHM 2021 event and show your support. Find out more about the event on the UKDHM website, where you'll also be able to find lots of resources and other information.
Here at Jobskin®, we have a comprehensive variety of products designed to dramatically reduce the severity and impact of symptoms experienced by people with a wide array of different disabilities, helping disabled people to live better, happier and more fulfilled lives. The range includes:
Available in an extensive selection of different formats, SDO® garments are recognised as Class 1 medical devices. Each garment is made-to-measure, carefully crafted from Lycra® to deliver consistent, constant dynamic compression and increase proprioceptive and sensory feedback. A significant amount of clinical observation and evidence has shown that wearing SDO® garments can provide improvements in function, positioning, postural stability and musculoskeletal alignment.
Used before the provision of an SDO®, the ProTEM™ garment range is used as a tool for clinicians to assess the potential therapeutic value of dynamic compression, prior to measuring for an SDO®. ProTEM™ garments are available for paediatrics and adults.
The Sensory Hug provides sensory and proprioceptive feedback through dynamic compression. Clinical evidence has demonstrated that deep pressure can reduce overactivity and abnormal behaviour patterns in individuals with sensory processing difficulties. The Sensory Hug can be used as a treatment for sensory seeking individuals, with conditions such as: Autism, ADHD/ADD & SID/SPD.
You are invited to browse the Jobskin® website, where you can discover our complete collection of products. As always, you can contact our dedicated customer support team directly for further information and advice about our revolutionary product ranges.