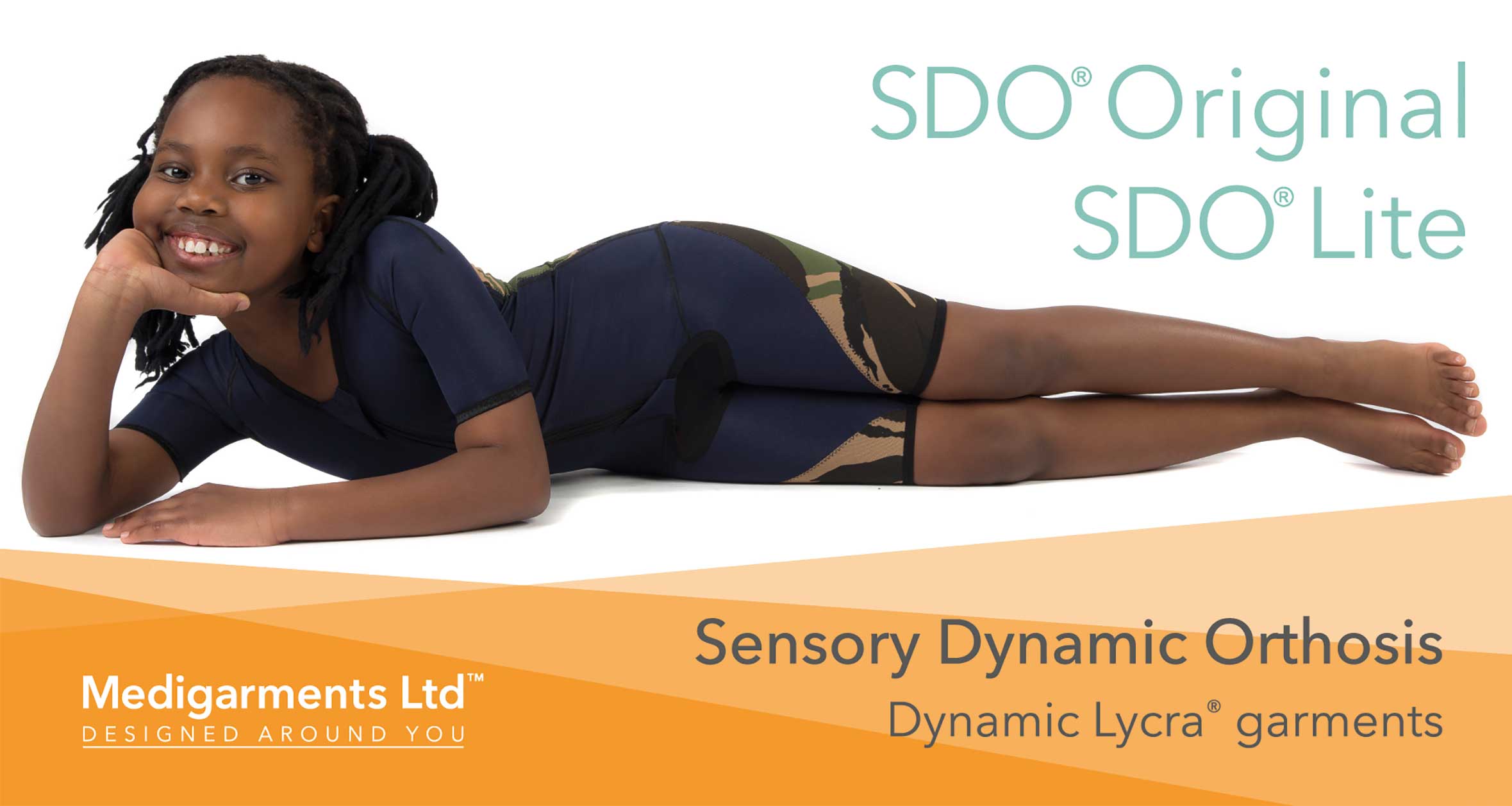 Many thousands of people have medical conditions that affect their movement, posture and coordination, which in turn can prevent them from enjoying a happy, fulfilled life. Medigarments Ltd, which has grown to become the UK's largest manufacturer of specialist compression garments since it was founded over four decades ago, created the SDO® (Sensory Dynamic Orthosis) collection to combat these issues. Made using advanced engineered fabrics and incorporating genuine Lycra®, each garment is a Class I medical device. There are two ranges in the SDO® collection.
The SDO® Lite collection comprises a comprehensive range of compression garments which is supplied ready-to-wear. SDO® Lite provides immediate therapeutic value from the moment it is donned. The premium-quality garments are available in a full range of sizes for both adults and children.
While wearing an SDO® Lite garment, the patient experiences constant, consistent therapeutic pressure. The effects of this pressure are immediately noticeable, providing improvements in posture, stability and function. The feedback delivered by the garments helps to enhance the fluency of the wearer's movements, reducing those that are involuntary. With conditions like autism and ADHD, the garments have been repeatedly shown to improve calmness and heighten levels of concentration and focus.
Clinical evidence and observation has shown that SDO® Lite garments provide improvements for many conditions, they are also used by clinicians as an assessment tool to decide if a made-to-measure garment from the SDO® Original collection could be suitable.
These are complex made-to-measure garments, with specific panelling designed to address the exact needs of a patient and their condition. These garments provide therapeutic benefits to patients with a wide range of neurological and musculoskeletal conditions, such as:
• Cerebral palsy
• Acquired brain/spinal injuries
• Stroke
• Spina bifida
• Multiple Sclerosis
• Dystonia
• Ehlers-Danlos Syndrome
• Down Syndrome
• Autism­/ADHD
Clinical observations and the evidence available shows that wearing the SDO® leads to an improvement in positioning, postural control and function because it provides musculoskeletal support, alignment, stability and sensory and proprioceptive feedback.
More detailed information about the unique SDO® range of compression garments can be found on the Medigarments Ltd website at: www.­jobskin.­co.­uk
More detailed information about the unique SDO® Lite collection of compression garments can be found on the Medigarments Ltd website at www.­jobskin.­co.­uk. If you believe that you or someone you care for could benefit from wearing one of these garments, please speak to your therapist or other medical professional. Alternatively, you can contact the clinical team at Medigarments Ltd on +44 (0)115 973 4300. We will be happy to assist you with contact details of specialist therapists in this field.