Traditionally, silicone gel sheeting has been used for the treatment and management of problem scarring but this isn't ideal for children or facial scars. The solution is ScarSil®, a revolutionary product from Jobskin® that has been proven in clinical trials to be just as efficacious as silicone gel sheeting at treating problem scarring, including Keloid and Hypertrophic scars.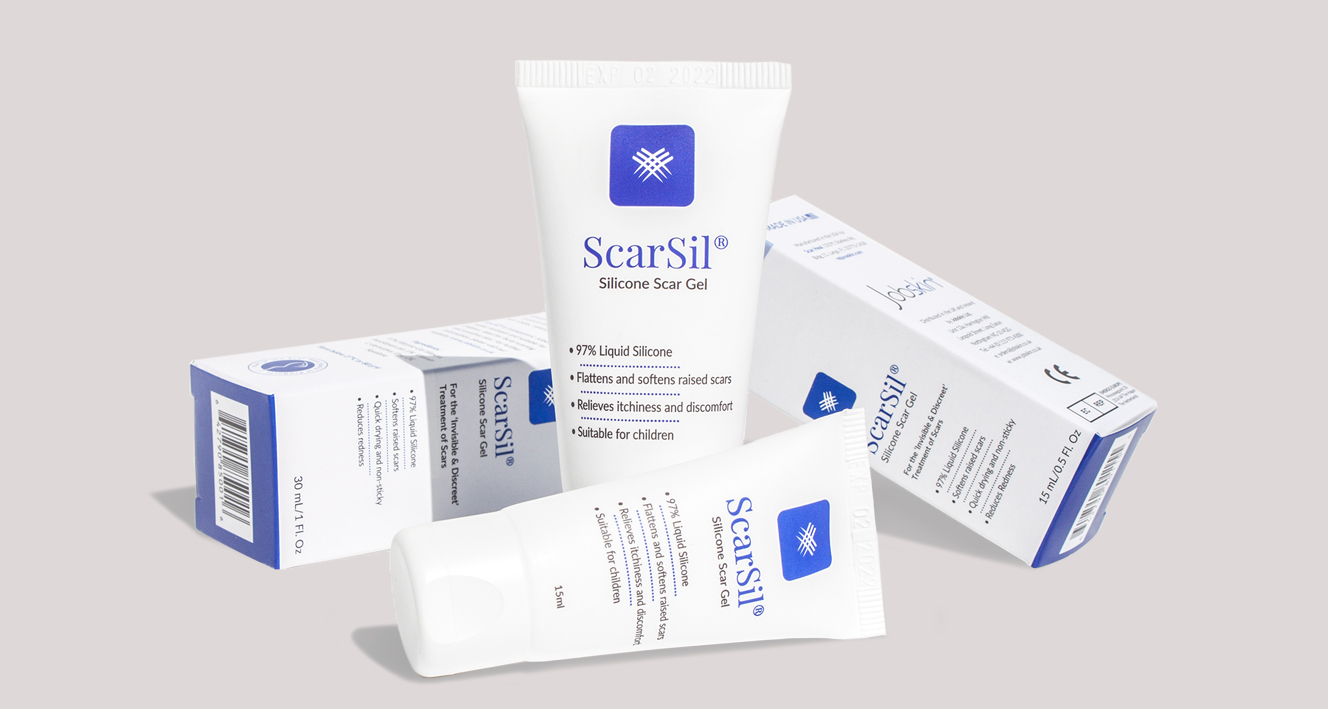 ScarSil® is a silky-smooth gel that can be used after suture removal on closed and healed wounds. The formula is especially soft and gentle and is perfect for use on children, facial scarring and people with sensitive skin. With regular usage, ScarSil® flattens and softens raised scars, reducing redness and other discolouration while helping to relieve associated discomfort such as itchiness. ScarSil® creates a barrier which enables the skin to release moisture at its normal levels which in turn aids with the healing process.
Administering ScarSil® silicone gel is a quick and easy process: the formula is gently applied to the affected area in a thin layer. After a rapid drying time of around two minutes, the silicone gel remains non-tacky with a silky satin-like finish. ScarSil® forms a thin, waterproof and airtight film over the affected area. This film is invisible to the eye and non greasy, and can be over-applied with sun-protection and cosmetics, making it ideal for the treatment of facial scarring. The film is also flexible and so can be used successfully on joints, flexures and other moving parts of the body.
ScarSil® is made using 97% pure silicone (the 'gold standard') with added vitamin C which helps to reduce redness. For the best results, the product should be applied 2–4 times each day until scar maturity is achieved and improvement can be visibly noticed. Jobskin® can supply ScarSil® in a handy 15ml tube or in a 30ml tube for enhanced cost-effectiveness.
To recap, ScarSil® is:
Invisible
Quick drying
Non-tacky
Silky satin finish
Non-greasy
Suitable for children
Suitable for facial scarring
For larger areas of problem scarring, Jobskin® supply ScarFX® Silicone sheeting, the most cost effective choice with 100% medical grade silicone. ScarFX® is available in flat sheets which can be cut to size or convenient shapes for breast scarring.
ScarSil® is sometimes prescribed by doctors and clinicians but, with lockdown in place and people shielding and/or avoiding unnecessary interactions, this pathway is not ideal for many people at the moment. To ease this situation, you can purchase ScarSil® directly from the Jobskin® website. Please visit the ScarSil® product page for more information and, as always, do not hesitate to contact our expert team for further advice, information and support.