Jobskin are renowned for supplying therapeutic garments of impeccable quality. All the quality in the world, however, amounts to nothing if the garment isn't properly held in place!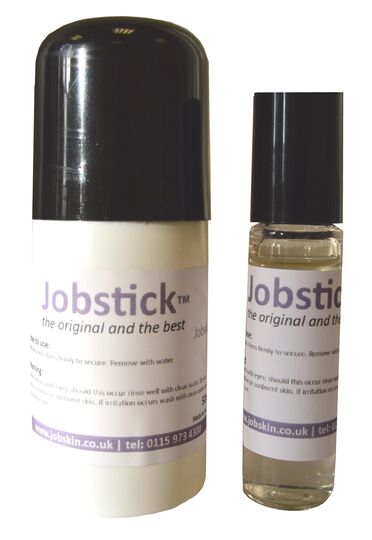 The traditional method of securing garments is with garters or grip bands and, while these work perfectly for many patients, there are some who experience a certain level of discomfort. For these more sensitive people, Jobskin have created Jobstick™ Body Adhesive.
Jobstick™ Body Adhesive is ideal for securing thigh-length, knee-high and arm-sleeve garments, ensuring they stay in place and thus offer the best therapeutic value. The adhesive is designed to be totally pliable when dry, which means it moves in sync with the body and eliminates any potential discomfort that garters or grip bands may otherwise cause.
The formula is supplied in a specially-designed bottle with a roll-on component which allows for easy, effortless and accurate application; all the user needs to do is roll the adhesive where required, press the garment into place and then enjoy the comfort. As it is water-soluble, the adhesive washes off immediately and totally with simple soap and water leaving no marks stains or other visible trace.
At Jobskin, we are continually working to improve our range of products and services. Our staff attend regular training sessions and global conferences in order to ensure our knowledge is completely up to date and Jobstick™ Body Adhesive represents just one more step up the ladder. The product joins our ever-growing selection of life-changing devices and accessories; as always, you can be sure of the most realistic, competitive price from Jobskin.
As well as pressure garments, Jobstick™ Body Adhesive can also be successfully used with a number of other orthopaedic and surgical devices. For further information on this or any aspect of our crucial work here at Jobskin, do not hesitate to confidentially contact our skilled, sympathetic team of experts.