Did you know Jobskin® design & manufacture gaiters right here in the UK? Gaiters are devices for either the arms or legs, that support and immobilise joints safely in extension, or in a flexed position for contracture management. Jobskin® can supply a range of standard and made-to-measure gaiters and this edition of our blog looks at them in more detail.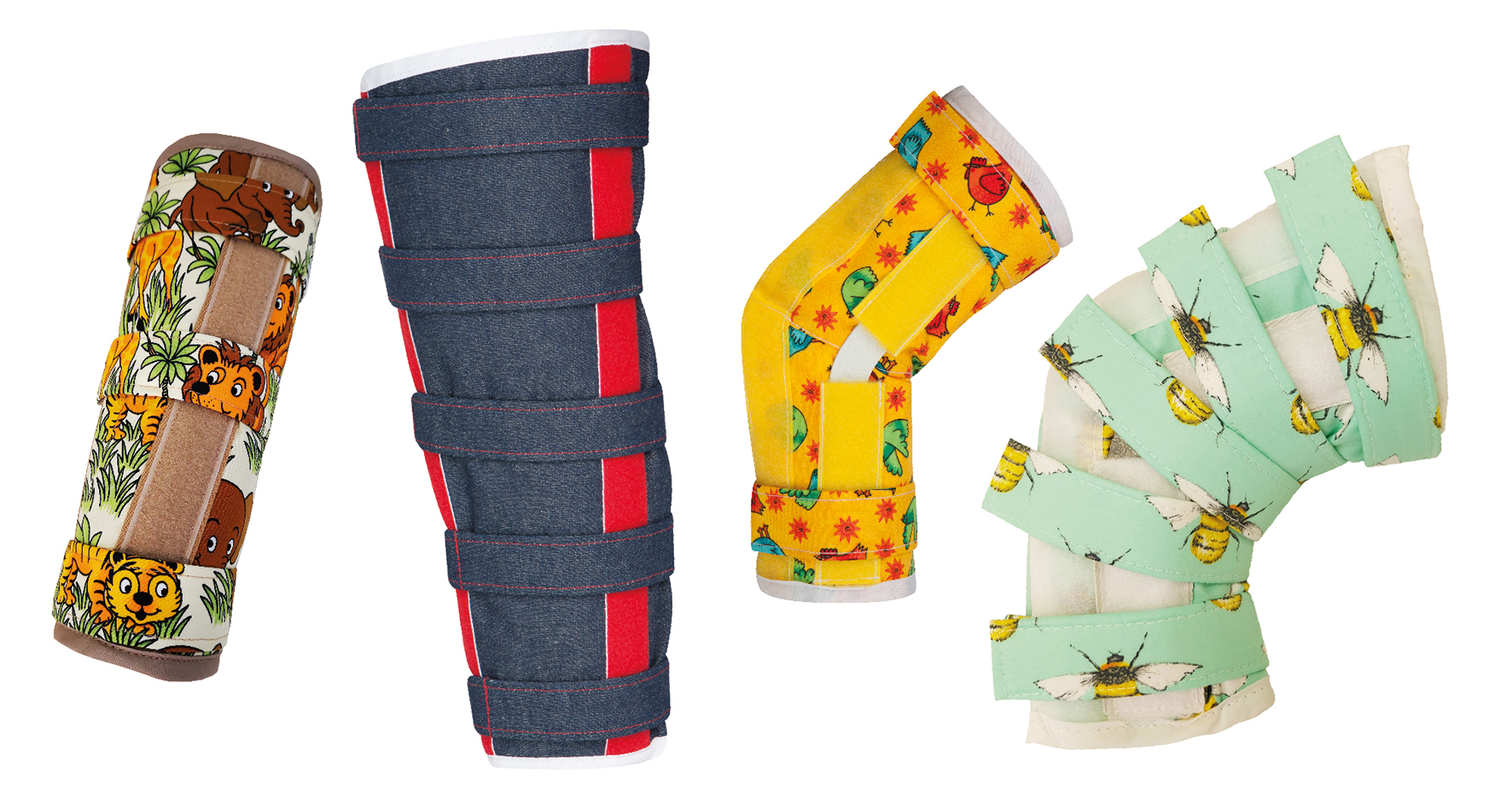 Jobskin® gaiters are fabric orthoses with metal inserts for strength, and are fastened around the limb with hook and loop straps. Our gaiters aim to keep the affected limb in a controlled and stabilised extension for rehabilitation and/or provide a prolonged stretch to the limb to reduce contractures; or to passively stretch and support in a different angle of flexion for contractures.
They can be used to provide therapeutic value to patients with a number of different conditions such as Cerebral Palsy, Spina Bifida, Stroke, post injury, post surgery, post fracture and removal of the cast, strains and sprains, spasticity, dislocations etc.
They can be used as a night resting splint, during rehabilitation and helping with preventing unwanted motion e.g maintaining the arm or leg in extension during therapy; immobilise joints in a desired position to rest the joints, tendons, ligaments and muscles or maintain a certain joint alignment; passive stretching of contractures to increase /maintain range of movement (e.g lengthening hamstrings, lengthening biceps); prevent contracture or deformity; maintain gains achieved by manipulation, corrective surgery or reconstructive procedures.
Gaiters can help in many ways, including:
Immobilising, limiting, stabilising and otherwise controlling extremity joints
Reducing pain and discomfort by maintaining or increasing range of movement at the joint
Restricting the motion of a limb in a particular direction
Speeding up the rehabilitation process after a limb is fractured or broken and the cast removed
The Jobskin® gaiters range includes:
Made-to-measure or ready-to-wear Extension Gaiters. These are recommended when the limb needs to be immobilised or kept in extension for an extended period of time
Made-to-measure Flexion Gaiters. If flexion is necessary, for example in the case of contractures, these gaiters can provide it, with a maximum tolerance of 80 degrees of flexion
Lining choices:
Standard Lining. White cotton fabric for gaiters that may only require a shorter term of use for example post sprain or fracture
Deluxe Lining. A padded terry cloth lining that provides extra comfort, which can be of particular benefit if the gaiters are to be worn for a prolonged period
Jobskin® gaiters can be supplied in a range of different fabrics which, as well as looking great, can also aid compliance, especially in young people. These fabrics are regularly updated to keep up with current fashion trends, and therefore do sell out from time to time. Visit the gaiter fabric section on our website to check available fabrics when completing your electronic order form. Current options include Camouflage, Denim, Paisley, Butterflies, Owls and even Rainbow Unicorns!
We have recently added the following new fabrics to our gaiter range:
For more information and advice join us for our 1 hour Webinar on Jobskin® ready-to-wear and made-to-measure Gaiters.

REGISTER Today for Gaiters Webinar: All you need to know about Jobskin® gaiters

24th June 2021 • 9am – 10am GMT
Click here to download invitation and agenda.

Please register by emailing: clinics@jobskin.co.uk
Find out more about Jobskin® gaiters on our website and, if you need any advice or information, please do not hesitate to contact our dedicated clinical team.