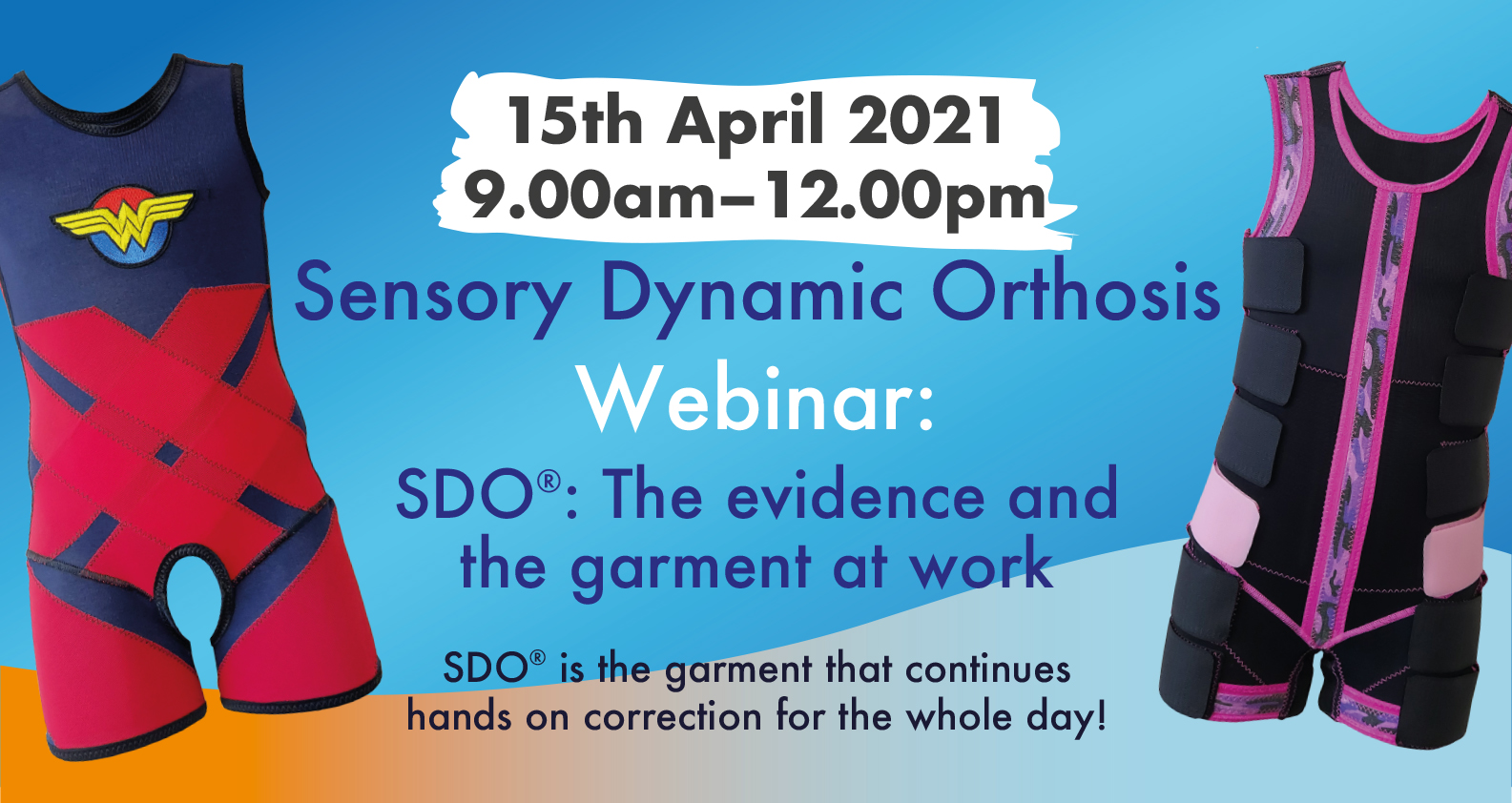 Clinical studies and observations have repeatedly shown that wearing SDO® (Sensory Dynamic Orthosis) garments from Jobskin® delivers remarkable improvements in terms of function, posture and positioning in patients with a number of different medical conditions. By stimulating the somatosensory and musculoskeletal systems, SDO® garments can improve proximal stability, biomechanical advantage for muscle activation, normalise tone as well as other benefits; this is from providing sensory and proprioceptive feedback, musculo-skeletal alignment and postural stability.­
At Jobskin®, we are committed to research, development and clinical training, and are passionate about sharing this knowledge with specialist clinicians to improve the treatment options and quality of life of many patients. As part of this commitment, we provide a number of training courses and other events. Our latest event is a free webinar that discusses the evolution of our SDO® range over the decades and an update of the current evidence and research. We will also have an introduction to our new fabrics and patterns, and a discussion with one of our patients who has benefited from wearing SDO® garments.
Keynote speakers at the free webinar will be:
| | |
| --- | --- |
| | Hannah Scott BSc (Hons) Orthotics and Prosthetics – Hannah is our Clinical Specialist here at Jobskin® and works in the UK and worldwide in various fields including research, training and the provision of clinical support. With many years of orthotic experience in the NHS and specialist schools, Hannah has unmatched knowledge of our SDO® collection as well as about our corsets, gaiters and Orthowrap™ products. |
| | Jessica Skilton BSc (Hons) Physiotherapy – Jessica is the National Account Manager for Jobskin® and is a HCPC-registered physiotherapist who has 10 years of clinical experience in both the NHS and the private sector. She carries out various roles at Jobskin® including customer support, sales, training & development. |
| | Campbell McLean (Hons) Mechatronics – Campbell is Jobskin's Sales and Marketing Director whose role includes business development, sales, marketing, innovation and product development. Campbell also oversees the operations of the whole of Jobskin®. |
Our free SDO® webinar will cover a number of learning objectives, including:
Understanding the theory behind SDO® garments and the patients it may help

Hear about the current evidence and ongoing research
Updated knowledge on Jobskin® SDO® products
See SDO® garments at work
Who the webinar is for:
Physi­ot­he­rapists
Occupational therapists
Orthotists
GPs, Consultants, Doctors
Certified SDO® clinicians
Student physi­ot­he­rapists/­occupational therapists/­orthotists/­medics/­nurses
Neuro specialist nurses e.g. MS nurse
Attendance at our 'SDO: The evidence and the garment at work' webinar is free but booking is essential. Please send an email to jessica.skilton@jobskin.co.uk to book your place. For more information about this webinar or our training courses, please check the Jobskin® website.