Orthowrap™
Orthowrap™ Instructions for use (IFU) - download.
Elastic Wrist Brace - NW16 only:
Orthowrap™ Instructions For Use
Contents
Jobskin® Orthowrap™ products are a range of orthotic adult and paediatric splints and braces for joint support and stabilisation. Products include a range of ankle, knee, spinal and wrist braces.
For a comprehensive list of indications please click here .
The Orthowrap™ Ankle support is designed to help support a variety of conditions ranging from mild to moderate sprains or strains to post operative management.
Orthowrap™ knee supports help to support a range of conditions, which include rheumatoid arthritis and osteoarthritis.
Orthowrap™ back supports are designed to carefully supporting the spine and are used for a variety of degenerative disorders .
Orthowrap™ wrist supports are used in a number of wrist injuries including sprains and strains. Common conditions such as carpal tunnel syndrome and tendinitis may be alleviated by wearing a wrist support.
Your new Jobskin® Orthowrap™ device has been expertly designed and manufactured in Long Eaton, Nottingham in the UK.
Types of Orthowrap™ orthosis available
Orthowrap™ orthoses are broken down into the categories listed below:
Ankle Support
Knee Supports
Pull-on knee sleeve

Hinged knee support in 3 lengths

Paediatric hinged knee support
Back Supports
Lumbosacral supports in 3 depths

Lumbosacral orthosis with abdominal support

Thoraco-lumbosacral support
Wrist Supports
Mini

Lace

Contour and paediatric contour

NHS Pasa elastic support
Please note
This device has been designed for use by a single patient and must be worn by the user only. It must not be applied to anyone else once already worn.
The device should offer a snug fit and can be expected to cause red marks initially. These soft tissue marks should disappear within 30–40 minutes of removing the device. If the marks persist for longer than 30–40 minutes do not increase the wearing time and inform your treating clinician directly. The device may be too small or simply require adjusting.
Should you develop any sores or blisters you should stop use of the device immediately.
Wearing Schedule:
On the first day of wear the Orthowrap™ should be worn for a maximum of two hours at any one time. If after two hours there are no adverse reactions then increase the next wearing time by one hour.
Continue to increase wearing time by one hour until the minimum recommended wearing time of 6–8 hours is reached, or as recommended by the treating clinician.
To obtain maximum benefit from the device it is important that it is worn daily as prescribed by a certified clinician (unless any adverse effects, contra­in­di­cations or precautions are identified).
It is advised that you should not sleep in the device, unless the device has been prescribed for night time use.
Please follow the advice of your treating clinician before you wear this Orthowrap™ orthosis.
For all Orthowrap™ orthoses, please follow the standard instructions below before reading the specific donning instructions for your type of device:
Read through the instructions for use, paying particular attention to Warnings and Precautions, and Additional Information regarding creams and oils, before wearing your new Orthowrap™ orthosis.
Ensure your hands are clean and you have no sharp fingernails or toenails. Temporarily remove jewellery from hands, wrists and ankles if applicable.
Open all fastenings
Avoid using your orthosis if you have any acute skin rashes or if a vascular/­circulation problem arises until cleared by your treating clinician
The orthosis should be comfortable to wear and not restrict circulation, check your device is the correct size
Watch for signs of discomfort and any change in hand/feet colour or temperature that may indicate problems with circulation. If this occurs remove the device and contact your treating clinician immediately
If you have a medical condition that may be affected by wearing an Orthowrap™ device, please seek medical clearance
To remove, simply open all hook and loop fastenings and carefully remove
Fitting Instructions:
Ankle Support
Orthowrap™ ankle supports are designed as bilateral devices ensuring the support fits both left or right foot
Pull the support over the foot like a sock, with the opening at the back over the heel
Check garment is central and fasten the hook and loop straps around the ankle
Take the longest part of the elastic strap and wrap it over the front of the foot and around the back
Knee Support – Hinged
Orthowrap™ hinged knee supports are available in a standard length for paediatrics and 3 lengths for adults. Please consult your treating clinician in order to professionally shape the hinges to your leg.
Treating Clinician only: Remove the hinges via openings beneath the top strap. Remove from casing and shape to the patients leg, avoid bending within 2.5cms of the centre of the hinge. Replace hinges in casings, ensuring that the top end of the hinge is inside the casing underneath the top strap.
Place the brace onto the leg with the widest end uppermost, the cut-out should be centred at the back of the knee
Close the device around the limb ensuring there are no creases and the device is straight
Fasten the straps securely but do not over tighten the device, ensure the device does not rotate during this process
Knee Support – Pull-On
Hold the brace with the wider end uppermost and the patella (knee cap) opening at the front

Pull the brace on and position the patella opening over the centre of the patella

When comfortably sited, fasten tabs to the desired tension
Back Supports
Orthowrap™ back supports are available in 3 different designs; Lumbosacral available in 3 sizes (depth), Lumbosacral with abdominal support and Thoraco-lumbosacral.
Treating Clinician only: Remove back stays and shape to the patients body contours. Replace stays and release elastic support straps.
Your brace can be put on standing up or lying down depending on the advice from your treating clinician
For the Thoraco-lumbosacral brace, first place the shoulder straps over your shoulders and cross over at the back, temporarily fasten these to small hook and loop pads (keeper pads) just below the rib cage along the top edge of the brace
Position the brace so the stays are evenly disposed either side of the spine and close hook and loop fastenings, ensure that the brace overlaps accurately to avoid skin abrasion
When comfortably sited, grasp both straps and secure to the lower front panel using the hook and loop tabs, these are designed to overlap each other if required. For the Abdominal support, ensure the tabs are fastened beneath the abdomen for additional support
For the Thoraco-lumbosacral brace, detach the shoulder straps from the 'keeper' pads, stretch and attach to the centre front panel, once again overlap if required
Wrist Braces
Orthowrap™ wrist supports are available in 5 different designs including paediatric.
Treating Clinician only: If applicable remove stays and shape carefully to support the wrist in neutral position and replace.
Slide brace over hand, thumb through the hole
Bring edges together and close with hook and loop fastening
If applicable, adjust thumb web strap for comfort
Trim straps to required length
NOTE: When removing the garments, peel off gradually taking care not to place extreme pressure on seams.
NOTE: If your garments are tight, slack or damaged they will need to be replaced by your clinician/­provider immediately.
Ankle support – for mild to moderate sprains or strains, ligamentous instability and post operative management.
Knee supports – for medial or lateral instability, patella control, rheumatoid arthritis, osteoarthritis and mild to moderate hyperextension.
Back supports – for osteoporotic bone collapse in the thoracic and lumbar spine, hyperkyphosis, chronic back pain, post trauma or post surgery and a variety of degenerative disorders
Wrist supports – for sprains, strains, rheumatoid arthritis, osteoarthritis, immobilisation after distortions, carpal tunnel syndrome, Ehlers Danlos Syndrome, benign hypermobility and tendinitis
Swelling or inflammation around the joint, broken skin, severe rheumatoid arthritis or osteoarthritis and unstable fractures of the spine.
Your clinician should be made aware of any existing medical conditions you may have so this can be considered when ordering your Orthowrap™ orthosis. If you have not alerted your clinician to any of the conditions below, please DO NOT wear this garment until your clinician confirms it is safe to do so. Existing medical conditions include but are not limited to:
Certain skin conditions e.g. Eczema
Vascular/­Circulation problems
Oedema
Weight fluctuations
Epilepsy
There are no known side affects when wearing this device in the correct manner as directed by your clinician, surgeon or GP. If your medical condition deteriorates whilst wearing this device, please consult your doctor or clinician immediately.
The manufacturer is not liable for any damages, conditions or injuries that occur from handling or using this device incorrectly. This includes any alterations or tampering by the user. Your device must be regularly maintained to the maintenance schedule in this IFU.
Orthowrap™ orthoses are not flame retardant, please avoid naked flames when wearing.
Please stop wear and contact your treating clinician if any of the below occur:
Allergic reaction
Discolouration or a change in body temperature showing circulation or vascular problems
Lasting redness or skin abrasions
Raised temperature
If you have any open wounds in the area to be treated, these need to be covered with an appropriate wound dressing or bandage, before the orthosis can be applied.
In Case of Serious Incident
In the event of a serious incident that may result in the deterioration of a patient's medical condition or may risk death, STOP using your garment immediately and contact:
The manufacturer Jobskin® Ltd.
The relevant authority in the Member State
The UK Medicines and Healthcare products Regulatory Agency (MHRA)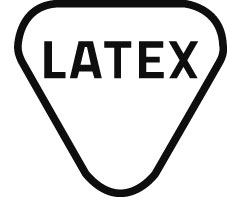 Latex
Caution: The Orthowrap™ Elastic Wrist Brace, code NW16 contains natural rubber latex which may cause allergic reactions.
Please follow instructions provided by your treating clinician and wear as prescribed to achieve optimum results. You may have to seek help with donning and doffing your device and your treating clinician should be made aware of this.
Although Jobskin® orthoses are resilient to most creams and oils, please note the following as some creams may damage the fabric, reduce the elasticity and the effectiveness of your device.
Avoid using creams containing wax, paraffin or petroleum
Use water or silicone-based moisturiser or cream
Always check garment and skin daily before use. Do not use if you have hyper­sen­sitivity or an allergic response to the materials. Please report to your treating clinician urgently.
When re-applying your orthosis after bathing, creaming and massaging, make sure the skin is dry and no residue cream remains on the skin.
This orthosis is not intended to be used in water or showering.
All persons are required to observe their respective driving laws when operating motor vehicles. It is the responsibility of the user to discuss this matter with the DVLA.
Important: Please do not remove the silk label within your orthosis as the warranty will be void.
The fabric composition is printed on the silk label inside your garment.
This garment does not contain latex
Please follow the washing instructions below to maintain the quality of your device, a copy of which is printed on the silk label sewn into your Orthowrap™ orthosis.
Wash your orthosis separately for the first time to avoid any colour run. Jobskin® recommend securing any hook and loop fastenings prior to washing as this helps to protect and prolong the life of your garment.
TIP: Using a laundry bag inside your washing machine helps to protect your new Jobskin® Orthowrap™ orthosis.
TIP: After hand washing, tightly roll your orthosis inside a thick towel to remove excess moisture, then dry flat on a second dry towel.
Key points to note:
Wash dark colours separately
DO USE a non-biological mild detergent
Please do not use a fabric conditioner
Please do not dry in direct sunlight
Please do not dry on a radiator
Please do not dry in a tumble dryer

When hand washing, please rinse well and do not wring
We advise that Jobskin® Orthowrap™ garments are washed 2–3 days a week to help rejuvenate the fabric.
| | | |
| --- | --- | --- |
| | | Hand Wash |
| | | Do Not Bleach |
| | | Do Not Iron |
| | | Do Not Tumble Dry |
| | | Do Not Dry Clean |
| | | Do Not Wring |
| | | Dry Flat |
| | | Drip Dry |
The ankle support and wrist supports are machine washable, please hand wash all other devices.
| | | |
| --- | --- | --- |
| | | Machine Wash at 40 degrees centigrade |
Please store your new Orthowrap™ orthosis in a dry place away from direct sunlight.
Ready-to-wear Orthowrap™ orthoses are recommended for immediate use as body measurements may change over time.
It is recommended that our Orthowrap™ orthoses are evaluated by a healthcare professional after 12 months of use to determine suitability of use.
Please contact your treating clinician if the following occurs:
You gain or lose a significant amount of weight

Your condition changes

Your orthosis has degraded and needs to be replaced
Please do not wear an orthosis that is too tight or too loose as this can cause delays in your therapeutic success. Always ensure that your device is correctly positioned when fitting, this will also help avoid premature deterioration of the device.
Your new ready-to-wear Orthowrap™ garment is for single patient usage only, please do not share this garment with a third party.
Disposal of your garment
There are no specific instructions for Orthowrap™ disposal. Please dispose of your used device in your household waste or clothing recycling bank.