Classic Oedema Glove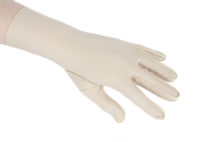 Specialised Ready Made Garments - Classic Oedema Glove Wrist Length with Closed Digit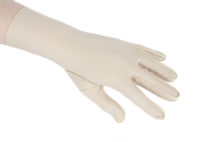 Classic Oedema Glove Above Wrist with Closed Digit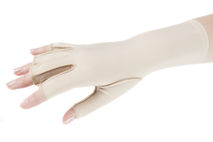 Specialised Ready Made Garments-Classic Oedema Glove Above Wrist with Open Digit
A specialised RTW Pressure Garment
The Classic Oedema Glove from Jobskin® are available individually, as oedema can affect just one hand. Choose from wrist length with closed fingers and above the wrist in both closed and open fingers.
Closed Finger: this is our standard option and used where full coverage is paramount, delivering gentle therapeutic compression.
Open Finger: where monitoring of swelling is important, our open finger Classic Oedema Gloves allow for unhindered examination. This style also improves the patient's dexterity and freedom to undertake activities such as mobile phone usage and reading.
The Jobskin® Classic Oedema Glove provides warmth and gentle compression for soothing soft tissue oedema and arthritic joint pain. Economically priced and designed with all seams on the outside for gentle and even compression to oedematous tissue.